Judy Kite-Gosh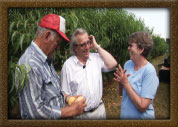 Judy Kite Gosh calls her style American Melting Pot. She is the chef/owner of Retro Café and her catering operation, Kite's Kitchen, in New Buffalo. In 1993, she left an executive position in Chicago and came home to Michigan to pursue her first love, "Food!" She chose southwestern Berrien County for her restaurant because of the area's abundance of the fresh farm food that was part of her history. Her grandmother and aunt were both chefs with gardens. Anything they didn't grow themselves they bought from local farms. In her restaurant, Chef Gosh shares the tastes and flavors of her heritage. In 1998, she married Tom Gosh, who now does most of the local sourcing for the business, visiting local farms every week for the freshest and best the area has to offer.
Says Judy Gosh: "Taste is the main reason we use as much locally grown food as possible. Nothing tastes better than fresh, seasonal, local produce, from asparagus in the spring to wonderful root vegetables and squashes in the fall. In fact, 'fresh' is the most frequently used word by our customers to describe our cuisine. Health and nutrition are also important reasons for our use and support of local agriculture. Organics are another component of our cuisine and, whenever possible, we use organic produce, meats and eggs sourced locally."
"Local farmers are also good stewards of the land as well as our friends, neighbors and customers. When you think 'green,' local agriculture takes center stage. Local sustainable agriculture saves as much as 80 percent on transportation costs and a much greater portion of our food dollar stays in our local economy. The last fifteen years have been the best of my life and the café and catering business have thrived on local agriculture."